November 3, 2020
Carbon rim geometry
This short step-by-step guide can help you choose the right rim for your application.
Some time ago there were few rim types – xc, trail, enduro, dh, road, etc.
For example, if you were looking for a light xc rim, you would choose between ZTR Crest (lighter rider) or ZTR Arch (heavier rider). You did not care about geometry in general. You knew that Crest\Arch would be fine with 2.0-2.2 xc tires, that rim is tubeless compatible, and that it is one of the best aluminum rims on the market.
Times have changed. A bit 🙂
Now china's carbon rims have proven to be the best choice in some cases.
But with all these advantages we also got a problem – what rim to choose?
There are multiple well-known sellers on AliExpress, some of them offer several (5-9) different rim types, other offer hordes (50-99)
For example, one of our favorite stores has 78 different carbon rim listings!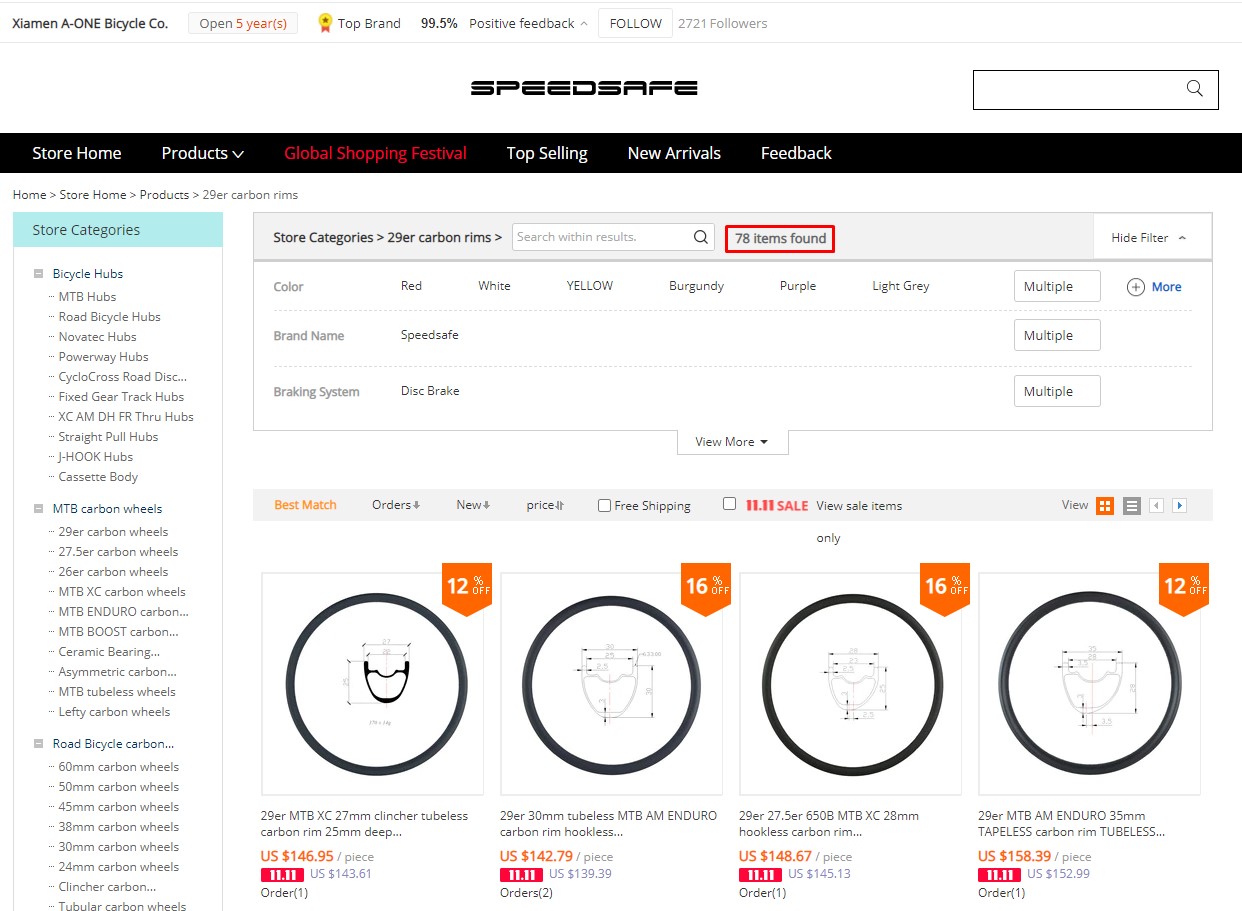 Of course, one rim type could be listed twice (as one rim or as a pair), but anyway, what to choose?
So, we made a short guide for you.
---
Symmetric or asymmetric

Boost and non-boost

Rim width

Rim depth

Hole count

Gloss or matte, UD or 12k
---
0 Preconditions
Find a person, who will build carbon wheels for you. Ask about china rims, ask what would he recommend. It could be not that easy.
China carbon rims are OK for an XC and regular riding usage, but we don't believe they can suit fine Enduro and DH usage. Carbon rim can withstand more beating than aluminum ones, but they are still not indestructible, so running carbon rims on DH and Enduro can slightly increase expenses on rims replacement after crashes.
All rims have to be hookless.
---
1 Symmetric or asymmetric rims
In general, asymmetric is the best option for all applications EXCEPT frames with offset and Lefty forks.
In the pic below you can see that wheel with an asymmetrical rim has more similar spoke tension.
The scheme was taken from https://noblwheels.com article.
For frames with offset (Cannondale AI design for example), you can see that you can use symmetrical rim and get even spokes length, tension, etc.
The scheme was taken from Cannondale Manual.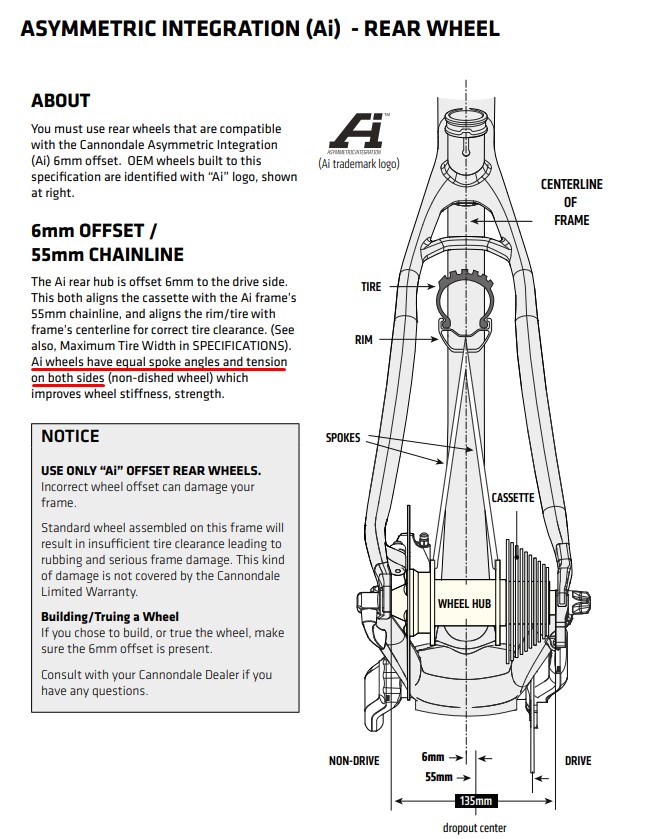 The scheme was taken from https://www.theproscloset.com article.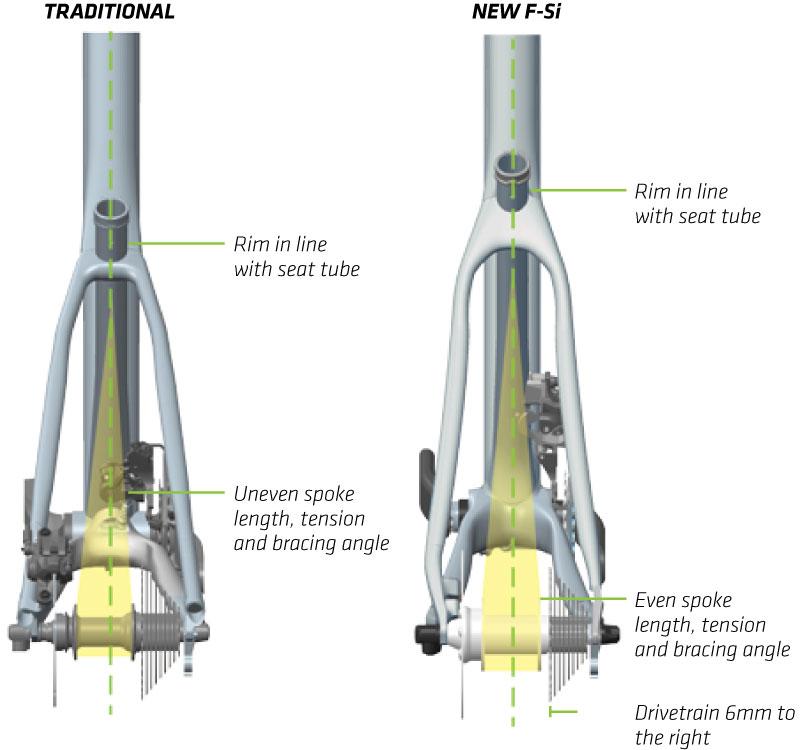 ---
3 Boost or non-boost
In general, the same asymmetrical-symmetrical rules apply.
As you can see, boost hubs still have uneven dimensioning between flanges and hub center.
Boost is better than non-boost in terms of spokes angles, but for the most hubs (that are asymmetrical) on the market asymmetrical rim will perform better.
The scheme was taken from https://www.stradawheels.co.uk article.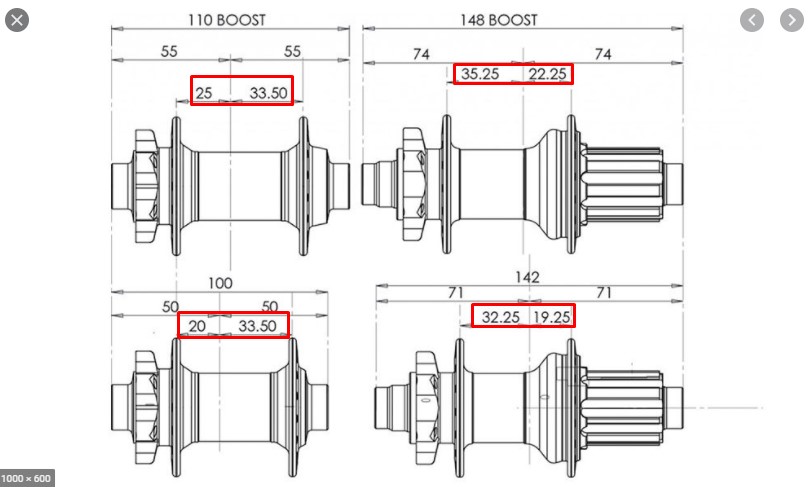 One more example – DT 240s 148mm Boost hub (screenshot taken from https://www.kstoerz.com/).
---
4 Rim inner width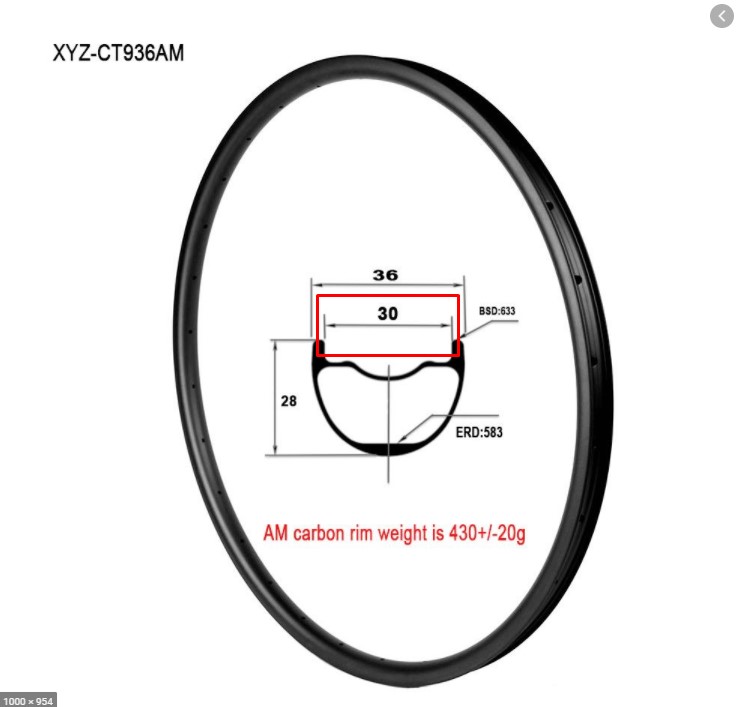 Rim width generally defines optimal tire width.
We can separate 3 different cases of rim width.
21-22mm. This could be a sub 300 (accordingly to description down to 260-280) grams rims. You are choosing narrower rims to save a few additional grams. Still, these rims can suit 2.0-2.1 tires.
25mm. Golden, default standard right now. You can still get a light rim (305-310 gram confirmed), that can be ridden hard. This rim will suit 2.0-2.3 tires.
28+mm. These rims can be chosen if you want to use wider tires (2.3-2.6).
---
5 Rim depth
Carbon rims are much more rigid than aluminum ones.
But with a quick reaction on handling and pedaling you also can feel that the wheel has less vertical compliance.
This could lead to an unpleasant experience of riding on hardtail bikes, as rear-end can be too harsh.
Rim depth is responsible for compliance, so trying to get as low profile as possible for a hardtail bike is a good point.
On a suspension bike, rim depth does not matter that much.
In general, the less depth rim has the better it is.
On the scheme below you can see two rims with identical inner and outer width, identical offset, identical wall thickness, but with different depth.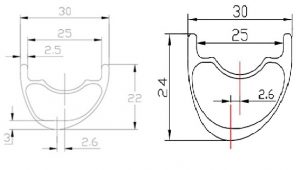 Also, more surface area increases change for the rim to be damaged by rocks from the outer side.
On xc usage, aero rim won`t influence overall performance like on road bikes.
But rims with bigger depth have one little-known option – it could be manufactured without access holes on the inner wall except for the air valve hole. These kinds of rims are harder to build, but they can be run without tubeless tape, just like UST rims.
So, try to get the lowest depth available for your width you choose on the previous step unless you want a rim without spokes holes on the inner wall (Ask your seller about this option).
The photo was taken from https://www.lightbicycle.com article.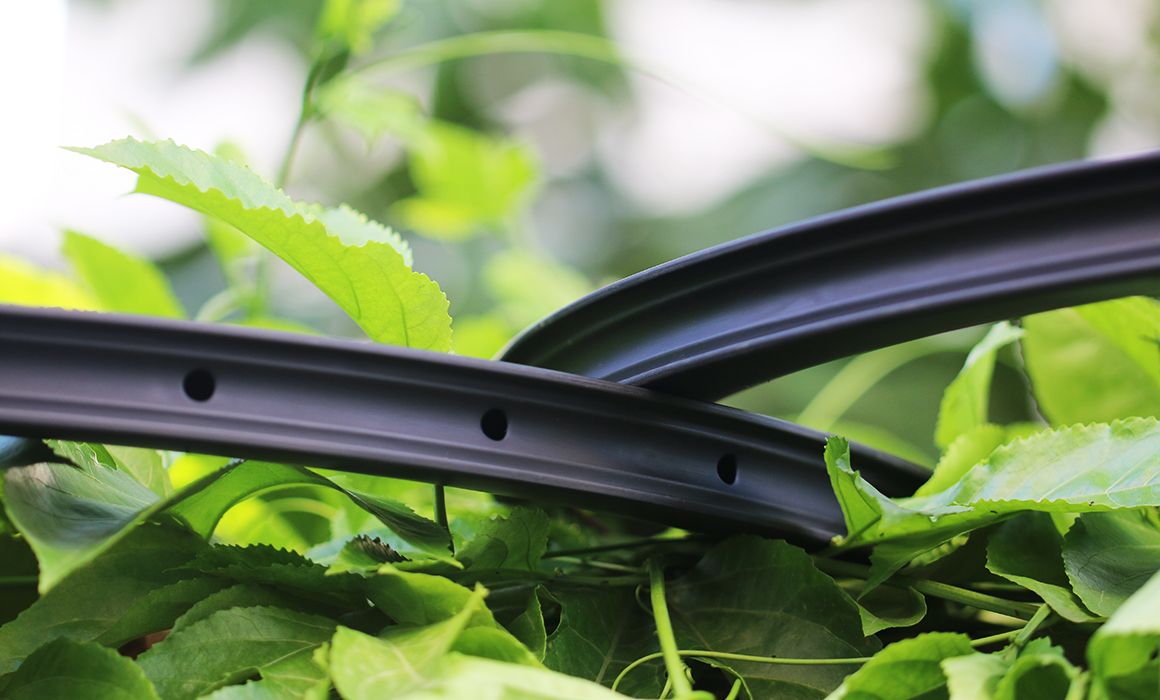 ---
6 Hole count
Carbon rims are so rigid that they don't need 32 spokes.
More spokes can lead the wheel to be too stiff, which will reduce comfort (and add weight by extra spokes).
28 holes for carbon rim is a default option (as 32 was for aluminum rims).
Of course, you can choose 24 spokes to reduce weight, but it can be considered for hardcore weight weenie builds.
---
7 Gloss or matte, UD or 3k\6k\12k
As we saw, rims are made from UD carbon itself, so a natural finish will be the lightest one.
We made an additional investigation, and now we can state that:
Some rims are made of UD sheets and 3k\6k\12k option is an added extra sheet on the top.
Some rims are fully made from UD, or 3k\6k\12k.
So, in the first case, UD and 3k\6k\12k are the same rims. In the second case, UD and 3k\6k\12k will be four rims made from different types of carbon sheets with the same geometry.
Unfortunately, we can`t say what type of rim is better. You can ask the seller about the type of fiber used, but we can`t tell how to interpret this info.
Gloss finish will add some weight.
3k\6k\12k finish also can add some weight for the first case.
UD Matte is like a black Ford T.
A customer can have a rim painted any color he wants as long as it`s UD Matt (c).
Gloss rims look super sexy, carbon layout also looks great, and if you want your rim to attract extra attention – go for it, you won't regret about extra grams.
The photo won`t reflect how nice Gloss 12k looks in real.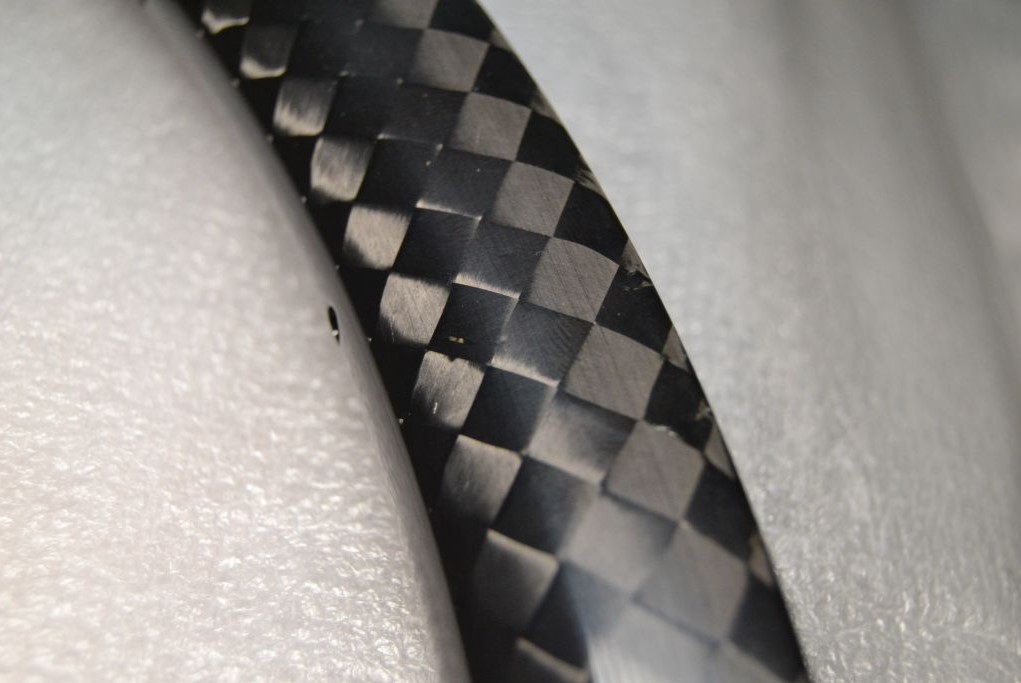 ---
8 Last dance
Consult once again with the person who will build your wheel and receive his\her approval on all options!
Carbon wheels will perform great, but they have to be built right!
---
In our catalog, you can find list or rims from AliExpress we dialed with.
You can find weight, photos, and descriptions.